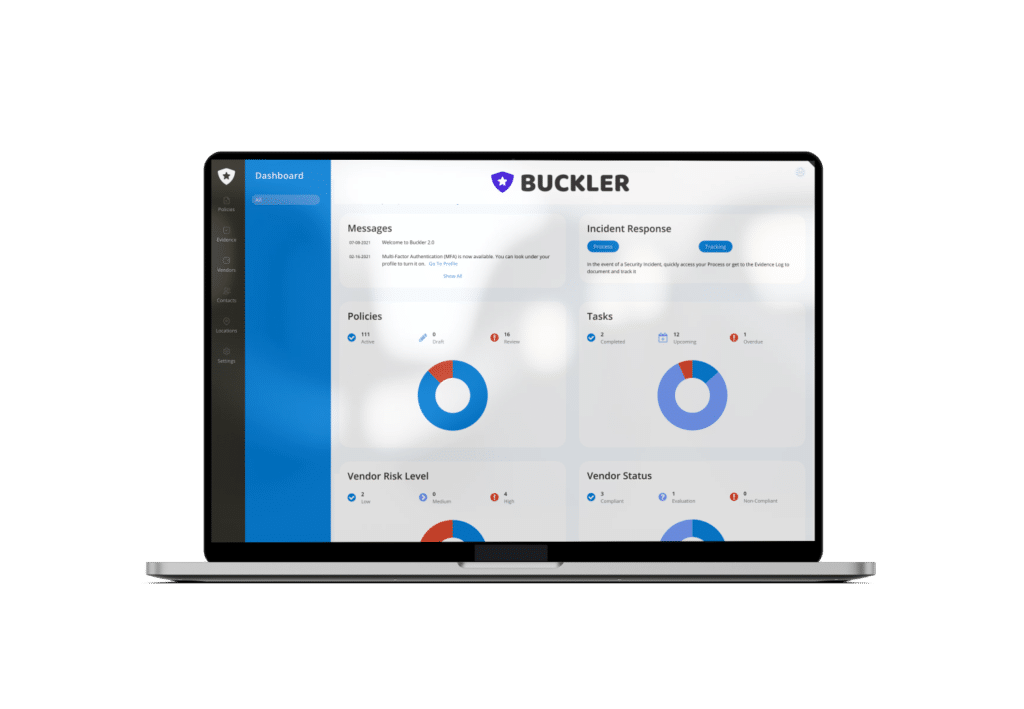 Buckler's Innovative & Unique Way to Group Policies

1. Program Controls
Program & Risk Management

2. Process Controls
Plans & Processes: Business Continuity Plan, Security Incident Response Plan, Vendor Management, etc.

3. Data Controls
User, Private Data, Software & Infrastructure

4. Technical Controls
Endpoint & Network Security Safeguards & Controls
Regulation & enterprise templates
Why start from scratch? Adopt and adapt templates to meet requirements from Regulators and Enterprises. If you have your own program, add it to Buckler!
policy ownership & assignment
From CISO to End Users, from IT to Cyber Teams, Buckler offers easy tracking of who owns which policy and who responsible to enforce it. No more confusion!
calendar TASKS & reminders
Annually, quarterly, monthly, weekly or daily, track all recurring tasks related to your cybersecurity program and get reminders to never forget them… Be proactive!
compliance & audit readiness
With Buckler, you are always prepared and ready for an audit from Regulators, Authorities or Enterprises. Welcome audits!
third-party / vendor management
List and manage your vendors, tag which access private information, determine their risk level and document how secure and compliant they are.
Pre-built forms and logs allow to document events and activities related to your Cybersecurity Program. These are the required evidence to demonstrate compliance.
More to it than just a Paragraph...